"There's no point being grown-up if you can't be childish sometimes."
- The Doctor -
Who are we?
About Us
The League of the Non-Aligned (LOTNA) is a social group of Sci-Fi fans based in London who enjoy all forms of Sci-Fi and Cult TV.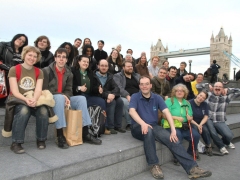 Our pub nites are on the second and fourth Saturday of each month.
Some nights we just chill out and chat about our favourite shows and films or there may be a planned activity, such as a fun quiz, or a themed party. LOTNA membership is free, the only cost is your food and drink! Under 18s must be accompanied by an adult.
LOTNA was founded in 1998 …